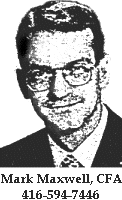 Investors Group
With over 70 years of experience in providing personal financial services to Canadians through its own dedicated sales force, Investors Group has had steady growth in all periods of the business cycle.
For this reason IGI is our "Defensive Play" among the publicly traded mutual fund companies. IGI is focused on three strategic initiatives: 1) expansion of products and services to meet their clients' needs; 2) growing their distribution through their dedicated sales force and continual upgrade of their representatives' professional skills; and, 3) management of costs through scale economies and spending on initiatives that enhance client relationships.
During 1998, we expect mutual fund asset growth of 18%, management fee revenue growth of 21%, and earnings growth of 21% per annum, for a return on equity of 23%. As a result of the continuing solid fundamentals and strategic initiatives, we recommend IGI as a Strong Buy with potential capital gain of 32%.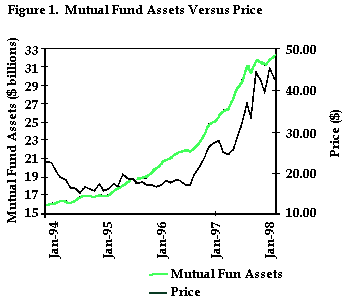 Asset Growth
At the end of February 1998, Investors Group was the largest mutual fund company in Canada ranked by mutual fund assets under administration, which stood at $33.9 billion. From the end of 1986, when we started to track mutual fund assets, IGI has always been the largest mutual fund management firm. On an absolute dollar basis IGI had the largest growth in mutual fund assets in 1997, an increase of $6.8 billion to $31.8 billion. In both 1996 and 1997 IGI had lagged the industry in percentage growth; assets grew 26% in 1996 and 27% in 1997 while the industry enjoyed 45% and 34% growth per annum, respectively. We forecast the market's asset growth to be 15% and 13% in 1993 and 1999, respectively, and anticipate that IGI will surpass the market with growth of 18% and 17% per annum, respectively.


Lower Redemption Rate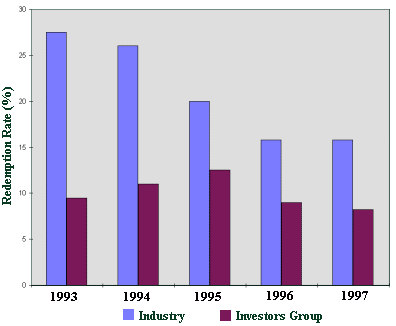 Over the last five years, Investors Group's redemption rates (redemptions as percentage of average net assets) have been significantly lower than the industry. At the end of 1997 IGI had a redemption rate of 8.2% versus 14.9% for the industry, not including money market funds. Lower redemption rates, which provide stability in times of uncertain markets, are a function of: 1) long-term relationships that the representatives have fostered; and, 2) diversity of products available to their customers. Investors will reward the company for this key success factor with higher multiples on the company's stock, since the duration of the assets providing management fee revenue is nearly twice as long as the industry average. As the redemption rate has been declining, the price of the stock has been rising.
Product Availability
By expanding their product range, the Company is able to meet a variety of needs required by their clients, making them better served by (and therefore more loyal to) Investors Group. Products sold through the company's distribution channel are:
Mutual Funds: 34 Investors Group Funds plus funds advised by Merrill Lynch Asset Management (five funds), Rothschild Asset Management Limited (five funds), Beutel Goodman and Company Limited (three funds), and Sceptre Investment Counsel Limited (three funds);
Insurance: disability, term, and permanent life insurance underwritten by The Great West Life Assurance Company, The Canada Life Assurance Company, and Aetna Life Insurance Company of Canada;
Guaranteed Investment Certificates (GICs): choice of GICs offered by Investors Group Trust Co. Ltd., tvlontreal Trust, Bank of Montreal, and Royal Bank of Canada; and,
Mortgages: mortgage origination and servicing.
Dedicated Sales Force
IGI's mutual funds are sold exclusively through their sales force, not through the brokerage and financial planner networks. The competitiveness of the brokerage network toward selling mutual funds makes it difficult for a fund company to establish longterm relationships with clients. Furthermore, when selling through this network, the fund company is required to pay a higher commission for the sale of the fund because the fee has to be shared with the brokerage firm. With IGI's own dedicated sales force, the portion of the fee to a brokerage firm is eliminated. As a result, Investor's Group has a lower cost of asset acquisition (commission), while at the same time pays its sales representatives competitively.
With over 3,500 representatives, Investors Group has one of the largest sales forces in the Canadian financial services industry. This group has both depth and breadth. The percentage of the sales representatives with four or more years of service has been increasing steadily: 48% in 1997 versus 45% in 1996 and 39% in 1995. The added experience and knowledge of the sales force helps IGI retain more of its investors relative to the industry, builds and strengthens relationships with clients, and builds brand recogrution. Boasting one of Canada's largest sales forces, Investors Group will also be working with the sales forces of Great West Lifeco and London Life Insurance. One of IGI's partners within the Power Financial group of companies, Great West Lifeco is a life and health insurance company, also based in Winnipeg. Investors Group has been a major supporter of Great West's insurance products, selling as much as half of Great West's term insurance. On November 14, 1997, Great West concluded the acquisition of London Insurance Group, thereby obtaining access to London Life Insurance's 2,800 sales people. Investors and Great West svill both benefit from the addition of this sales force, by increasing the distribution capacity for products being manufactured.
Mutual Fund Performance
At the end of January 1998, 16 out of 40 Investors Group mutual funds ranked in the top two performance quartiles based on a one-year return. When looking at a 10-year return, of the 14 IGI funds that existed over this period, nine ranked in the top two quartiles. This standing illustrates the firm's longterm mutual fund performance objective: to offer its mutual fund investors above-average performance over the long-term while maintaining below-average risk.
Earnings Consistency
As the company with the largest amount of mutual fund assets under administration, IGI has been able to deliver consistent earnings growth over many years, with returns on equity ranging from 18% to 22%. Looking forward we are expecting net income of $180 million and $212 million for 1998 and 1999, respectively ($148 million in 1997), which with 106 million shares outstanding provides EPS growth of 21% in 1998 to 51.70 and a further 18% in 1999 to 52.00 (up from 51.40 in 1997). ROE is forecast to be 22.5% in 1998 and 22.9% in 1999. The growth in earnings will also come from control of mutual fund expenses, which as a percentage of mutual fund assets are expected to be approximately 1.68% in 1998 and 1.66% in 1999 (1.66% in 1997).

Cash Flow
Commission costs, the largest expense for a mutual fund company, are accounted for more conservatively at Investors Group than at any other publicly traded Canadian fund company. IGI expenses half the commission paid at the time of payment and amortizes the remaining half over 18 months while other companies use a term of three to nine years to amortize the full amount. We believe the best way of valuing this industry is on the basis of pre-commission operating cash flow since earnings vary widely across the industry depending on the amortization period of the commissions. In order to compare IGI with other mutual fund companies, we have added back the commissions paid on mutual fund sales since such a large percentage of the commissions are expensed in the year they are paid. Pre-commission operating CFPS was $3.59 in 1997, and we expect it to increase 20% to $4.30 in 1998 and a further 19% to 55.10 in 1999.